The Classic Bloody Mary's colorful combination of tomato juice and vodka, spiced up with Tobasco sauce, Worcestershire sauce and lemon, is a delicious brunch-staple cocktail.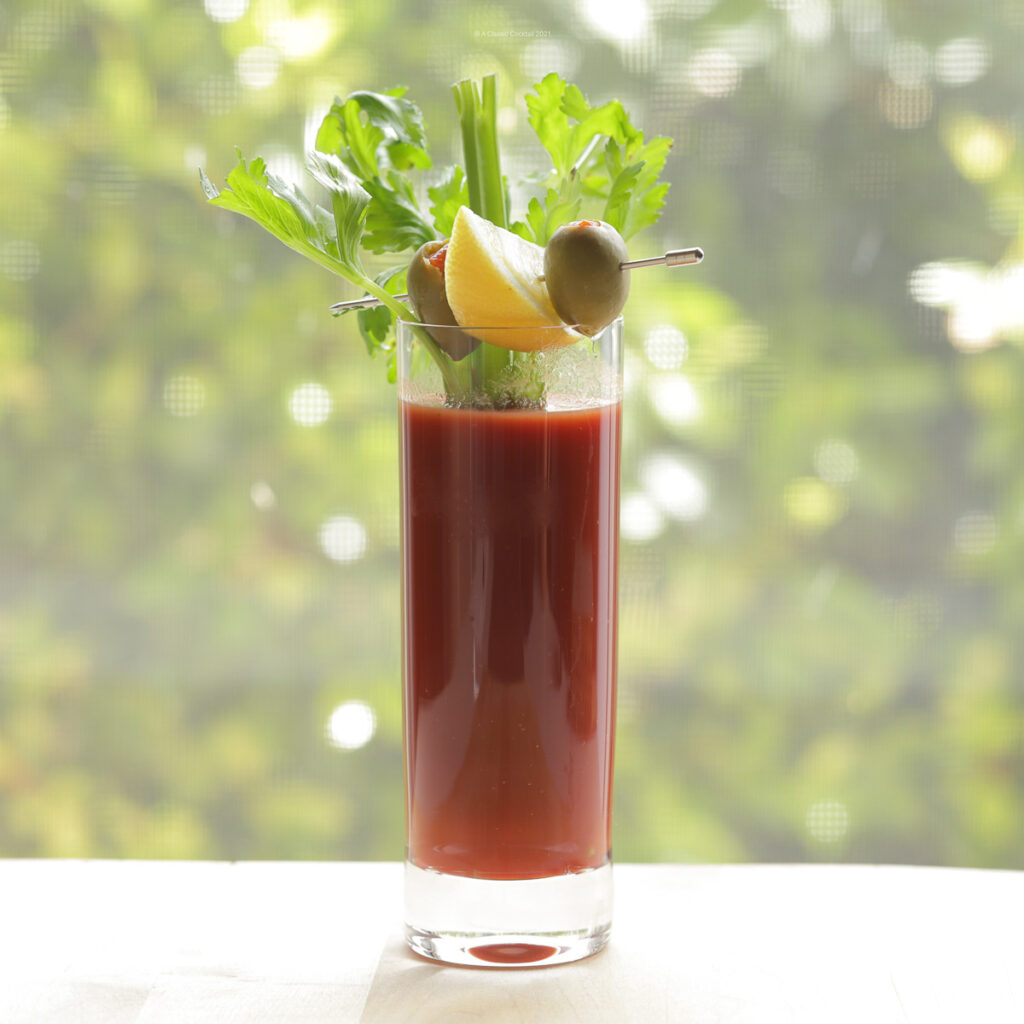 The Bloody Mary Morning Cocktail
Most of us don't have the constitution that the notoriously liquored-up writer Ernest Hemingway did, so drinking in the morning is pretty rare. But on those weekend brunch dates when you want something a little stronger than a Mimosa, the Bloody Mary is a perfect drink to get the party going. And if you've been out the night before, then perhaps the Bloody Mary is a necessary 'medication' to cure your hangover!
The History of the Bloody Mary is Open For Debate
Like most classic cocktails, the Bloody Mary has more than a few origin stories. One version places its beginnings at the New York Bar in Paris in the 1920's, then brought by its head bartender to New York's St. Regis Hotel when he changed jobs. Another tale says it was created at New York's famous "21 Club" bar in the 1930's to help cure the hangovers of famous comedian George Jessel.
The origin of the name also has many different versions. Some attribute it to a Chicago waitress from a bar called the Bucket of Blood. Others say it was named after ruthless ruler Queen Mary I of England. But I like to believe the legend that it was named for the original Hollywood icon, Mary Pickford.
What does it taste like?
The Bloody Mary cocktail started as an equal mix of tomato juice and vodka. The drink we know today that contains spices, vegetables and a plethora of garnishes that give it a complex taste. Its base flavor is a combination of salty, savory, and spicy. The fresh lemon juice gives it a refreshing taste and the tomato juice is just acidic enough to give it some kick. If you add hot sauce to it, it amplifies those tastes.
Bloody Mary garnishes can take this drink in a completely different direction. Celery is the traditional garnish, which balances the acidity and adds some crunch. But I've seen people add shrimp, bacon, onions, pickles, olives -- you name it! You are only limited by your imagination.
How to drink it?
I like to keep things simple and traditional. Start with a tall, slim cocktail glass such as a collins glass, which perfectly accommodates the drink and the tall, leafy celery garnish. Mix up and pour the classic Bloody Mary cocktail ingredients into the glass, then top it off with a bit of additional color by adding a lemon wedge and olive.
If you want to do a fancier garnish and put variety of snacks on the rim, you will need a larger glass with a wider mouth. Some good choices include a hurricane glass, a highball glass or a fishbowl glass.
Bar tools you'll need
You don't need many tools to build this classic cocktail. Just the following three:
Jigger
Cocktail mixing glass
Bar spoon
Bloody Mary Ingredients
It's not complicated, but making the perfect Bloody Mary does have a long list of ingredients. The good news is you probably have most of them already:
Vodka
Tomato juice
Fresh-squeezed lemon juice
Hot sauce (such as Tobasco)
Worcestershire sauce
Kosher salt
Ground black pepper
Celery salt
Celery stalk
Now that you've built a solid foundation, you can improvise with garnishes such as lemon wedges, olives, cocktail onions, pickles or whatever you prefer.
How to make it
Put a scoop of fresh ice into a mixing glass and add the vodka, tomato juice, lemon and other liquid ingredients. Stir well using a bar spoon. Add the kosher salt and pepper, then stir a little more.
I prefer using a mixing glass when making a Bloody Mary because I can really mix the ingredients well before pouring into my Collins glass. There's nothing worse than taking that first sip of a mixed drink and getting nothing but the alcohol and none of the other flavors.
Once my drink is chilled and mixed, I pour it into a Collins glass or high ball glass that has been filled with ice. Add the celery salt to taste and then add my other ingredients such as the celery stalk, olives, etc.
Frequently Asked Questions
Can I use a Bloody Mary mix instead?
I try to avoid mixes because many contain high fructose corn syrup, artificial colors, preservatives, etc. Plus, I think you get a much better taste with a hand mixed cocktail using fresh ingredients. But if you're short on time, there are several good mixes out there that don't contain too many negatives. My go-to mixer is from Collins. I like that it is not too spicy and it uses real cane sugar.
Who is Bloody Mary full story?
Without going too deep into English history, she was the first queen of England. Apparently she was pretty stern and had some gruesome methods of dealing with dissenters, hence the nickname--just not to her face!
So the next time you are planning a brunch with friends, don't shy away from mixing this classic cocktail. What is the strangest garnish you've ever had served in your Bloody Mary?
Print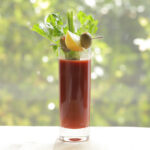 Classic Bloody Mary Recipe
---
Author:

Kevin Mayfield

Prep Time:

4 Minutes

Total Time:

4 minutes

Yield:

1

Cocktail

1

x
Description
This tangy classic cocktail is a perfect addition to your brunch plans.
---
1.5 oz of Vodka
4-6 oz of organic tomato juice
1 teaspoon of freshly squeezed lemon juice
3  long dashes of Worcestershire sauce
5 drops of hot sauce
½ teaspoon of Kosher salt
1 pinch of black ground pepper
Celery salt to taste
---
Instructions
1. Add a scoop of fresh ice to a cocktail mixing glass.
2. Pour in vodka, tomato juice, lemon juice and other wet ingredients.
3. Mix all ingredients in glass with a bar spoon to ensure proper distribution--you never want to have the spirit sit on top of the drink.
4. Add salt and pepper then stir some more.
5. Add celery salt to top of drink.
6. Add leafy celery stick, lemon wedge and olives and other chosen garnishes.
Notes
Some people like to use V8 as a substitute for the tomato juice, go ahead if that is the taste you prefer 
Go easy on the hot sauce until you see what you like--you can always add some more as you go but you can't take out too much
Category:

Classic Cocktail
Keywords: Bloody Mary, vodka drink, best Bloody Mary mix, bloody mary garnish