You don't have to be a world-class spy to enjoy a classic martini. This cocktail has been a staple on drink menus for over 100 years.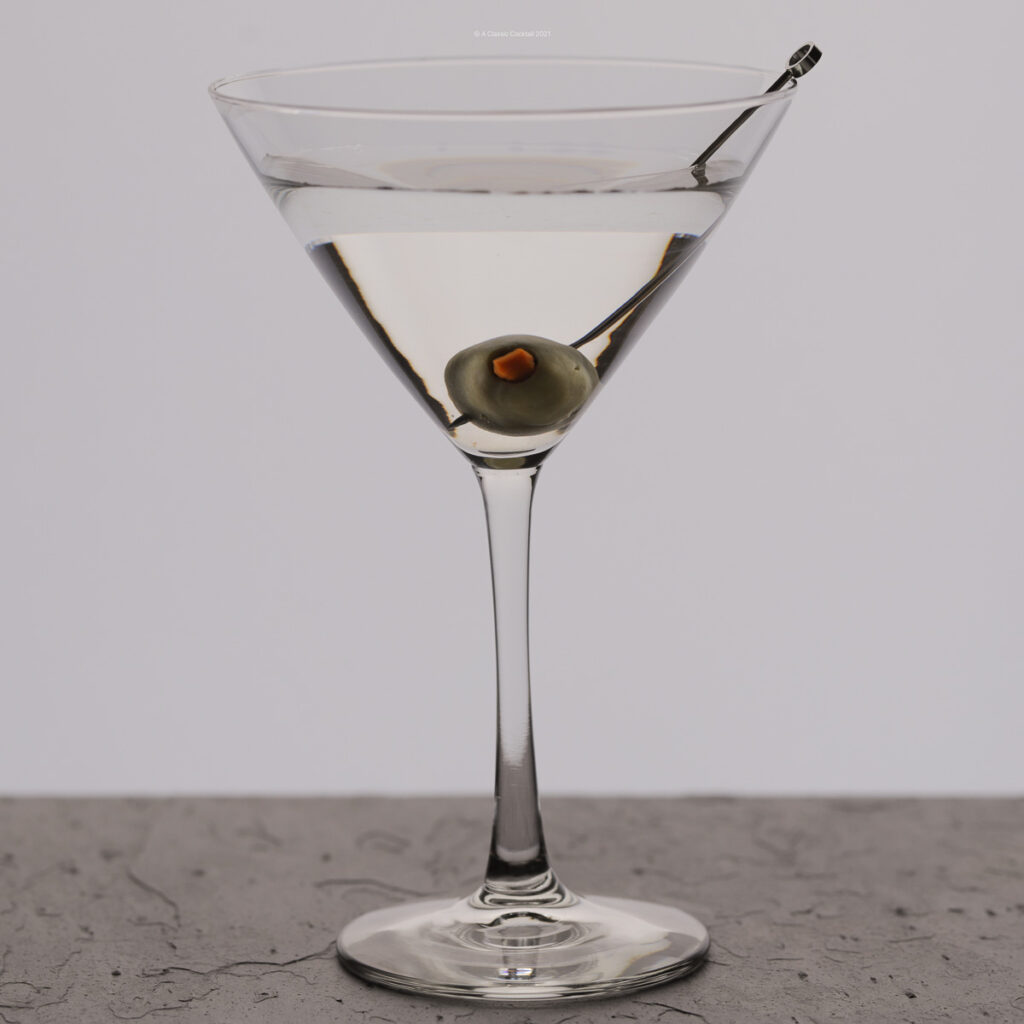 The Most Famous Classic Cocktail Needs No Introduction
Since at least the early 1900's, the martini cocktail has been a favorite of drinkers everywhere. Unlike some classic drinks, it never fell out of favor. In the 1950's and 60's, its popularity exploded when fictional spy James Bond ordered a "Vodka martini -- shaken, not stirred."
Many famous people, from stars of stage and screen to American politicians and Presidents, have enjoyed a chilled martini. Each put their own special twist on how to prepare it, from swishing vermouth in the glass and then pouring it out, to using a 50/50 mix of vodka and vermouth.
Origin of the Martini
Like most classic cocktails, the exact origins of the Martini cocktail are difficult to pin down. Some speculate that it was derived from the Martinez, a gin and vermouth drink that originated in Martinez, California, during the gold rush of the 1800's. Others think it was named after Martini & Rossi, the the original brand of dry vermouth that was used to make it.
What Does a Martini Cocktail Taste Like?
This is a very alcohol-forward drink, so be prepared to taste the gin or vodka and nothing else. This is a strong cocktail as well. There's nothing standing between you and the alcohol.
How to Drink a Martini Cocktail?
The Martini is best served in a cocktail glass that has been kept in a freezer to ensure it is nice and chilled. The drink will become ice cold as you mix it and it is best enjoyed as cold as possible.
There is a long-running debate about the ratio of gin to vermouth. This refers to the 'dryness' of the Martini -- the less vermouth there is, the drier the martini. Some people like a 2:1 ratio of spirit to vermouth. Some want only a hint of vermouth -- a dry Martini.
Ingredients for a Classic Martini Cocktail
I love a good duo cocktail. That means that there are only two ingredients. You will use:
Dry gin or vodka
Dry vermouth
Now you'll want at least some garnish, so we can add a lemon twist or olives. Some people (me included) like to pour a dash of olive juice in the drink to make it a 'dirty' martini. If you use bar onions, it is no longer called a Martini, it becomes a Gibson.
Tools you'll need
Since this is a duo cocktail, the only tools you'll need to make one are:
Cocktail mixing glass
Measuring jigger
Bar spoon (depending on how you make it)
How to make it
This one is up to you. There are two primary methods, shaken in a cocktail shaker with a handful of fresh ice or stirred. Either method will produce a delicious cocktail.
Frequently Asked Questions
Is martini made with gin or vodka?
Martinis were historically made with gin. In the 1960's vodka became more popular, and after Ian Fleming's James Bond ordered his martinis with vodka, it was the spirit of choice.
What was in the original martini?
In the early 1920's as the drink rose to fame, it was made with London dry gin and dry vermouth at a 2:1 ratio.
What is a 'dirty' martini?
I typically will mix a martini with vodka and just a bar spoon of dry vermouth to which I will add a couple of splashes of the briny olive juice to the drink before stirring to chill and mix. Adding the olive juice is what makes it 'dirty.'
You don't have to be a world-class spy to enjoy a Martini. Even though there are many variations, the concept is simple--ice cold gin or vodka with just a little dry vermouth. Add a couple of olives or a lemon twist and that's it. Simple perfection!
Print
Mixing a Classic Martini Cocktail
---
Author:

Kevin Mayfield

Prep Time:

1 Minute

Total Time:

1 minute

Yield:

1

Cocktail

1

x
Description
The classic martini is a staple for any gathering after a long day at the (home?) office.
---
2 ounces premium vodka
½ ounce dry vermouth
Olive or lemon twist garnish
---
Instructions
Add a scoop of fresh ice to a mixing glass
Pour in the two ingredients
Stir with a bar spoon for 30 seconds until the alcohol and vermouth are mixed well and chilled
Pour into a cocktail glass and add garnish of your choice
Notes
For a dirty martini, add a splash of olive juice before mixing. 
Mix the cocktail by stirring or by shaking. Shaking will add ice chips and dilute the drink a little, which some people prefer due to the alcohol forward content of the drink.
Category:

Classic Cocktails
Keywords: martini, dirty martini, James Bond cocktail, vodka drink, gin drink, shaken not stirred