The original Bourbon Manhattan Cocktail is smooth, sophisticated, and perfect to sip at the end of the day.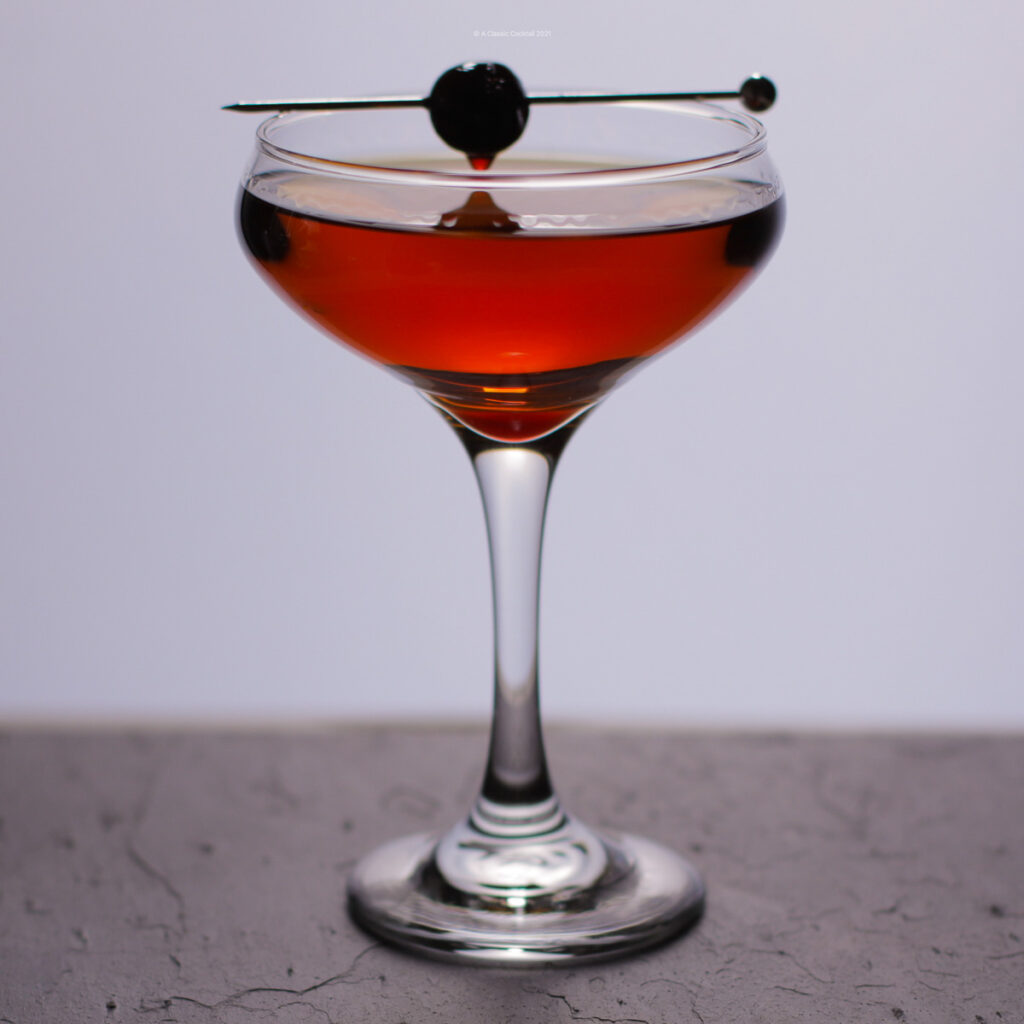 The Manhattan cocktail has always been my personal favorite. My late father-in-law used to mix one up to relax at the end of a long work day. When I'm out for dinner, I always find myself ordering one and silently toasting him.
What is a Manhattan Cocktail?
The Manhattan is a whiskey-based drink mixed with sweet vermouth and bitters to form one of the most famous classic cocktails in the world. Many Manhattan recipes call for rye whiskey as the base spirit, but Bourbon is also widely used. I prefer Bourbon because it is less spicy than rye, and blends well with the other ingredients.
Manhattan Cocktail History
The Manhattan cocktail is said to have originated in the mid-1800's at the Manhattan Club in New York City. Legend has it that this drink was made to celebrate a special dinner hosted by British Prime Minister Winston Churchill's mother. While this is likely a myth, the Manhattan is definitely a cocktail legends are made of.
What Does A Manhattan Taste Like?
When mixed properly with quality ingredients, the Manhattan is one the most approachable classic cocktails. It is smooth and sweet, with a hint of bitter and spice.
How to Serve It
A Manhattan is typically served "up," meaning without ice. Ice is considered unnecessary because the ingredients are shaken with ice, therefore the drink is already properly chilled.
You should serve a classic Manhattan in a stemmed glass, such as the coupe glass pictured above. Holding the drink by the stem allows it to remain cold because the cocktail is not coming into contact with the heat of your hand.
Bar Tools You'll Need
If you're wondering how to make a Manhattan at home, you'll be glad to know it doesn't require complicated bar tools. Here's what you'll want to have on hand:
Cocktail shaker
Measuring tool, or a jigger
Cocktail spear
Classic Manhattan Cocktail Ingredients
The real secret on how to make the best Manhattan is to choose excellent, high quality selections of the following ingredients:
Bourbon
Sweet vermouth
Bitters
Cherry garnish
I have a rule when it comes to mixing cocktails--especially for the base spirit. I only use alcohol that I would drink 'neat', meaning by itself. It's a mistake to think that putting an inferior brand of Bourbon in a cocktail will make it better. Poor-tasting spirits make for poor-tasting cocktails.
My go-to spirit for mixing a Manhattan is typically a sweet, wheated Kentucky Bourbon such as Maker's Mark. I prefer a Bourbon that uses wheat as its second ingredient rather than rye. This gives it a smooth, sweet taste. When I want a spicy whiskey, I'll drink a rye whiskey.
My favorite vermouth for a Manhattan is Cocchi Storico, made in Torino, Italy. It's rich, citrusy taste compliments the Bourbon nicely without overpowering it.
For the Manhattan's bitters, I've always been a big fan of Angostura, the leader in the bitters category. Made by the House of Angostura in the Caribbean, where only 5 people know the recipe for the spicy blend, it's a staple in both home and commercial bars.
The cherry garnish tops it all off, and the gold standard is Italy's Luxardo Maraschino Cherries. I am not a fan of the bright red, preservative-laden stemmed cherries that are overly sweet. The natural Luxardo cherries always add a pleasing and slightly tart aftertaste to the cocktail.
How to Make a Manhattan
Wondering how to make the best Manhattan? You don't have to be a professional mixologist to make it like a pro. Pour the Classic Manhattan ingredients into a cocktail shaker and shake vigorously for about 30 seconds (you need to shake long enough to chill the ingredients.) Strain the liquid into a chilled coupe glass, and then add the cherry garnish.
Popular Manhattan Cocktail Variations
Brandy Manhattan: Use a quality brandy in place of whiskey
Dry Manhattan: Replace the sweet vermouth with dry vermouth
Mexican Manhattan: Use anejo tequila in place of whiskey
Scotch Manhattan: (Rob Roy): Use Scotch whiskey in place of the Bourbon
Frequently Asked Questions
What is the difference between a Manhattan and an Old Fashioned?
Both cocktails are whiskey based drinks. The Manhattan is a simple cocktail with only 3 ingredients, whereas the Old Fashioned is a much more complicated drink consisting of muddled sugar cubes and orange peels.
Can you drink a Manhattan on the rocks?
Yes, you can drink this over ice. If you do, it should be served in a rocks glass.
What is the difference between a Manhattan and Perfect Manhattan?
A normal Manhattan drink will have just sweet vermouth, whereas a 'perfect' contains both sweet and dry vermouth in a 50/50 mixture.
Related Cocktails
The Old Fashioned
The Maple Manhattan
The Martinez
Which version of the Manhattan is your favorite? Drop me a line and let me know how you mix yours up!
Print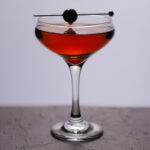 Original Bourbon Manhattan Cocktail Directions
---
Author:

Kevin Mayfield

Prep Time:

2 Minutes

Total Time:

2 minutes

Yield:

1

Cocktail

1

x
Description
The original Bourbon Manhattan Cocktail is smooth, sophisticated, and as classy as they come.
---
2 ounces Bourbon
1 ounce sweet vermouth
3-4 dashes Angostura bitters
1 or 2 cherries for garnish
---
Instructions
Add one scoop of fresh ice to a cocktail shaker
Pour in Bourbon, vermouth and bitters. Shake vigorously for 30 seconds
Strain into a coupe glass
Add 1 or 2 cherries for garnish on a cocktail spear
Notes
You can use rye whiskey instead of Bourbon if you prefer
If you like it on the rocks, serve it in a rocks glass over ice rather than a coupe glass.
Category:

Bourbon

Method:

Shaken
Keywords: Manhattan recipe, Bourbon, Vermouth, Angostura bitters, classic Cocktail, classic Manhattan, Manhattan ingredients