This delicious simple syrup for cocktails is easy to make and adds a complex flavor to any drink.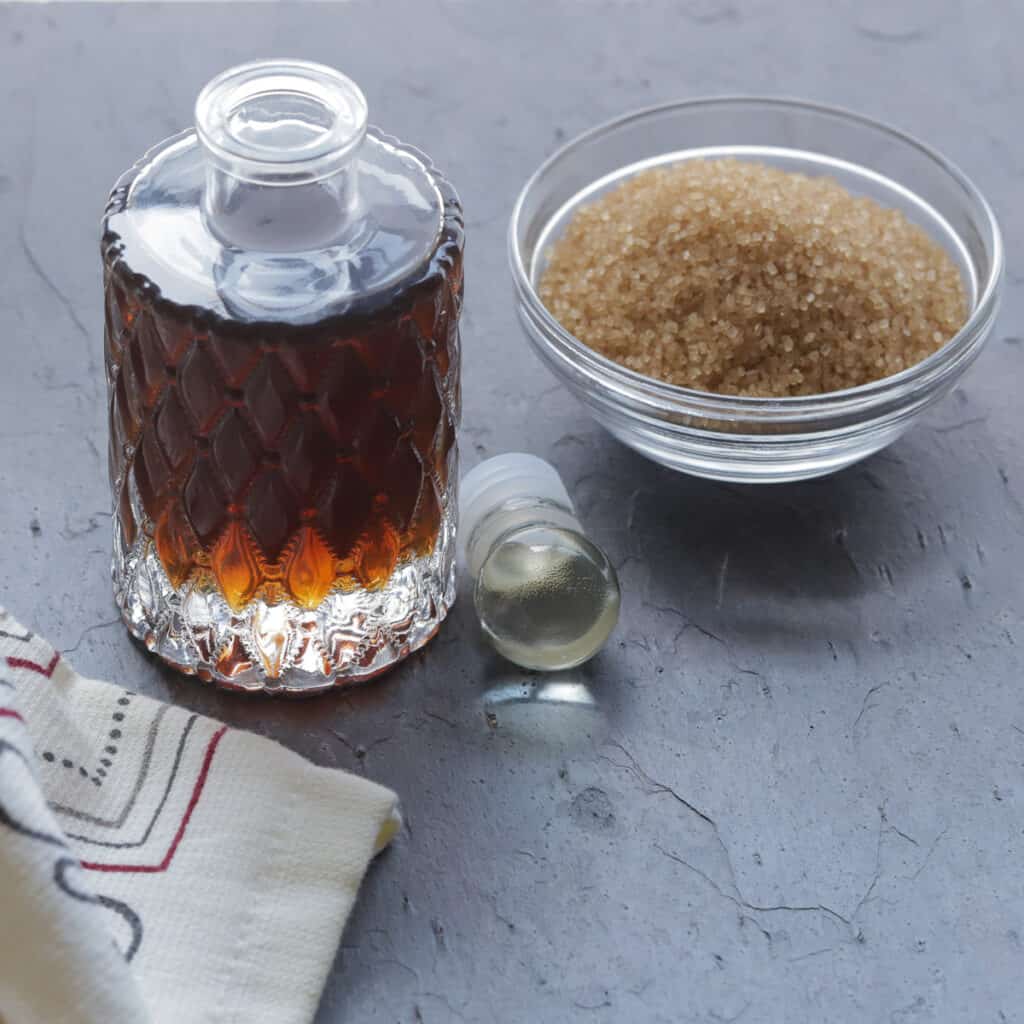 Simple Syrup is a Staple of Any Home Bar
A sweetener is part of the 'trinity' of cocktail making: sugar, fruit juice and alcohol. A liquid sweetener allows you to confidently mix a cocktail with the proper ratio of ingredients. Having a small container on hand will allow you to quickly make a number of classic cocktails from a Mojito, to a Mint Julep, to an Old Fashioned.
Making sweetener at home is fast, easy and economical. Plus, it tastes much better than anything you can buy at the store.
What Does It Taste Like?
I use demerara sugar to make almost all of my cocktail syrups. It tastes sweet without being overly syrupy like clear syrup, which is made with white sugar. It has a beautiful amber color to its large crystals, and they contribute some color to your drink as well.
I prefer to use demerara sugar because the taste is superior to clear syrup. Demarara is not simply brown sugar, which is white sugar that has the molasses added back into it. Instead, it is made from pure cane sugar that has a large grain and naturally retains the dark, sweet molasses.
Tools You'll Need
Here's all you'll need to quickly make a great sugar syrup for drinks:
Saucepan
Dry measuring cup
Wet measuring cup
Whisk
Sealed container
Ingredients
The typical ratio for a simple syrup recipe is 1:1 sugar to water. There are some recipes that change that ratio, but they are usually for a specific type of mixer. So remember:
Equal parts sugar and water
Recipe Variations
Clear Simple Syrup: Heat one cup of white granulated sugar in one cup of water - a basic, moderately sweet sugar water mixer.
Honey Simple Syrup: Heat one cup of honey in one cup of water - a thick, sweet tasting mixer that has a hint of clover.
Rich Simple Syrup: Heat two cups of white granulated or demerara sugar in one cup of water - a very sweet, thick mixer often used in the Old Fashioned cocktail.
How to Make Simple Syrup at Home
Simply bring a cup of water to a boil and mix in the sugar. Reduce heat and stir frequently to dissolve the sugar crystals. Once the sugar has been fully dissolved, remove from heat and pour into a sealable container. Allow to cool at room temperature. Once cooled, store in the refrigerator.
Your homemade syrup will stay good for up to 4 weeks when stored covered and refrigerated.
What's your favorite drink recipe using simple syrup, and which simple syrup is your favorite?
Print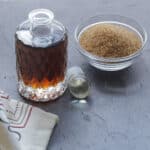 Delicious Demerara Cocktail Simple Syrup
---
Author:

Kevin Mayfield

Prep Time:

1 Minute

Cook Time:

2 Minutes

Total Time:

3 minutes

Yield:

1 Cup

1

x
Description
This recipe for simple syrup uses demerara sugar to create a dark, complex-tasting mixer for your classic cocktails.
---
1 cup demerara sugar
1 cup water
---
Instructions
Place water in a saucepan and bring to a soft boil.
Add sugar and stir with a whisk until sugar crystals have fully dissolved.
Remove from heat and let stand to cool.
Pour into a covered container and store in the refrigerator.
Notes
For a basic simple syrup you can use white sugar instead of the demerara.
You can substitute honey for the sugar to get an extra sweet syrup with a hint of clover.
When stored in a covered container in the refrigerator, syrup will remain fresh for up to one month.
Category:

Mixers

Method:

Stove
Keywords: simple syrup, simple syrup ratio, cocktail mixer, sugar syrup, sugar water,